---
---

Spiritual Connection
Webspirit
Holistic Junction --
Your Pathway to Discovery
http://www.redfoxtradingpost.com/

FOR THE NEW MILLENNIUM
through Joanna Neff
The Light Expansion Center
Largo, FL 33771
Aura Photo
(with spiritual entourage)
To set up a session, contact Joanna:
<lightexp@infionline.net>
---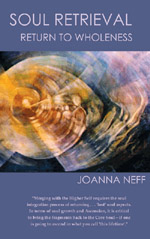 Joanna Neff's Book, 2nd Edition
The information in these pages is provided for educational purposes, and sessions are not intended to be a substitute for the professional medical diagnosis, advice or treatment obtained through a physician or other licensed health care provider.

RECOMMENDED
READING
The Magnesium Miracle
by Carolyn Dean, M.D., N.D.

The Emotion Code, by Bradley Nelson,

The Order of Time, by Carlo Rovelli

Forbidden Science: from Ancient Technologies to Free Energy, edited by J. Douglas Kenyon

Essence, by Kishori Aird

The New Psycho-Cybernetics (The Original Science of Self-Improvement and Success That Has Changed the Lives of 30 Million People), by Maxwell Maltz, M.D. (edited & updated)

Earthing: The most important health discovery ever!
by Clinton Ober, Stephen T. Sinatra, M.D.; Martin Zucker

Health and Light, by John N. Ott

Tuning the Human Biofield: Healing with Vibrational Sound Therapy, by Eileen Day McKusick

Kinship with All Life, by J. Allen Boone

Frequency: The Power of Personal Vibration, by Penney Peirce

---